New Report on the Economic Impact of Farmers Markets in MT Now Available
The Bureau of Business and Economic Research (BBER) and NCAT have released the report, "Sustaining Farmers Market Success: The Economic Contributions of Farmers Markets in Montana". Download the full report HERE.
About the Report:
The National Center for Appropriate Technology (NCAT) requested information about the economic impacts farmers markets have on Montana. NCAT hired the University of Montana's Bureau of Business and Economic Research (BBER) to obtain this information.
The primary objective of this study is to summarize the economic contributions of farmers markets in Montana. A secondary objective of this study is to provide a portrait of Montana's farmers markets from a statewide perspective.
BBER collected data on 71 farmers markets during the period from August 7, 2021, through November 11, 2021. The following summarizes the results of the study.
Key takeaways:
• In 2021, farmers markets made substantial contributions to the Montana economy. Specifically, in 2021 Montana farmers markets received $17.3 million in reve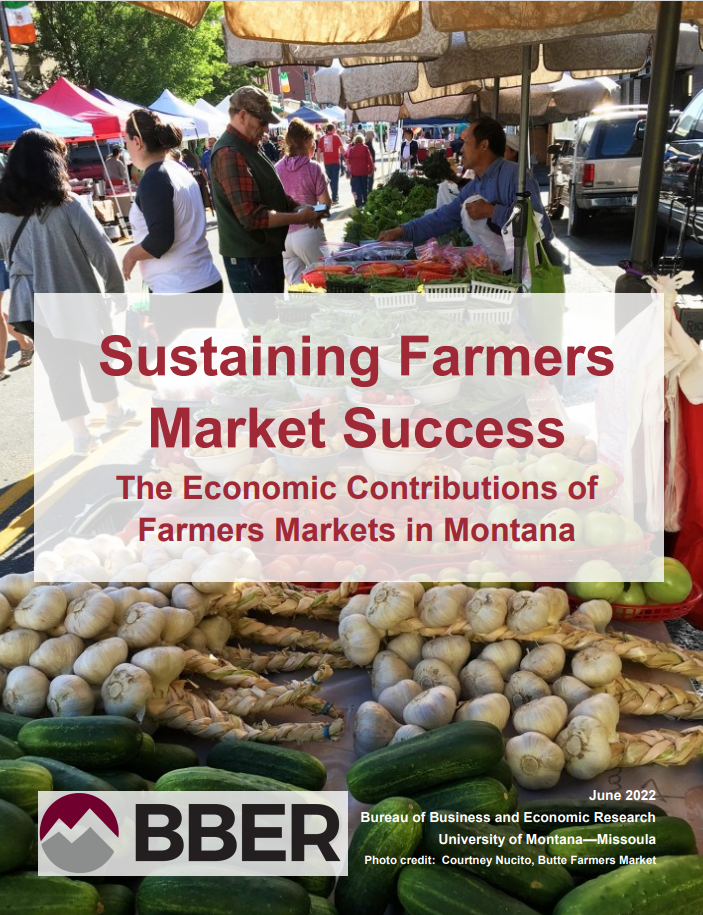 nue and generated an additional $10.4 million in new spending from resident wages, tax payments, sales, and investments that occurred as a result of farmers markets.
• An impressive 4,900 people worked to produce and sell the goods and services
offered on one typical market day at Montana's 71 markets during the 2021 market season. In 2021, farmers markets also generated 260 full-time Montana jobs over and above the 4,900 people who worked to put on farmers markets.
• While it varied from town to town, the typical 2021 Montana farmers market offered 22 individual market stands, gene
rated $244,000 in revenue over the course of the market season, and needed 69 people to put on the market for one typical market day.
• In 2021, farmers markets offered important supplemental products all across Montana, especially in rural areas – from Libby to Broadus. These products often included fresh fruits and vegetables, crafts, baked goods, meat or other items that are staples in many areas.
• Farmers markets in Montana are highly scalable businesses. As a business, farmers markets have adapted to a wide range of communities, from the smallest and most rural to large urban communities. They have adapted by offering an appropriate
number of market stands and an appropriate mix of products and services tailored to each community. This scalability has made farmers markets in Montana a very useful business model that has propagated across the state in all sizes of communities.